Everything You Need to Know Before Implementing Technology in Care Homes
4 Minute Read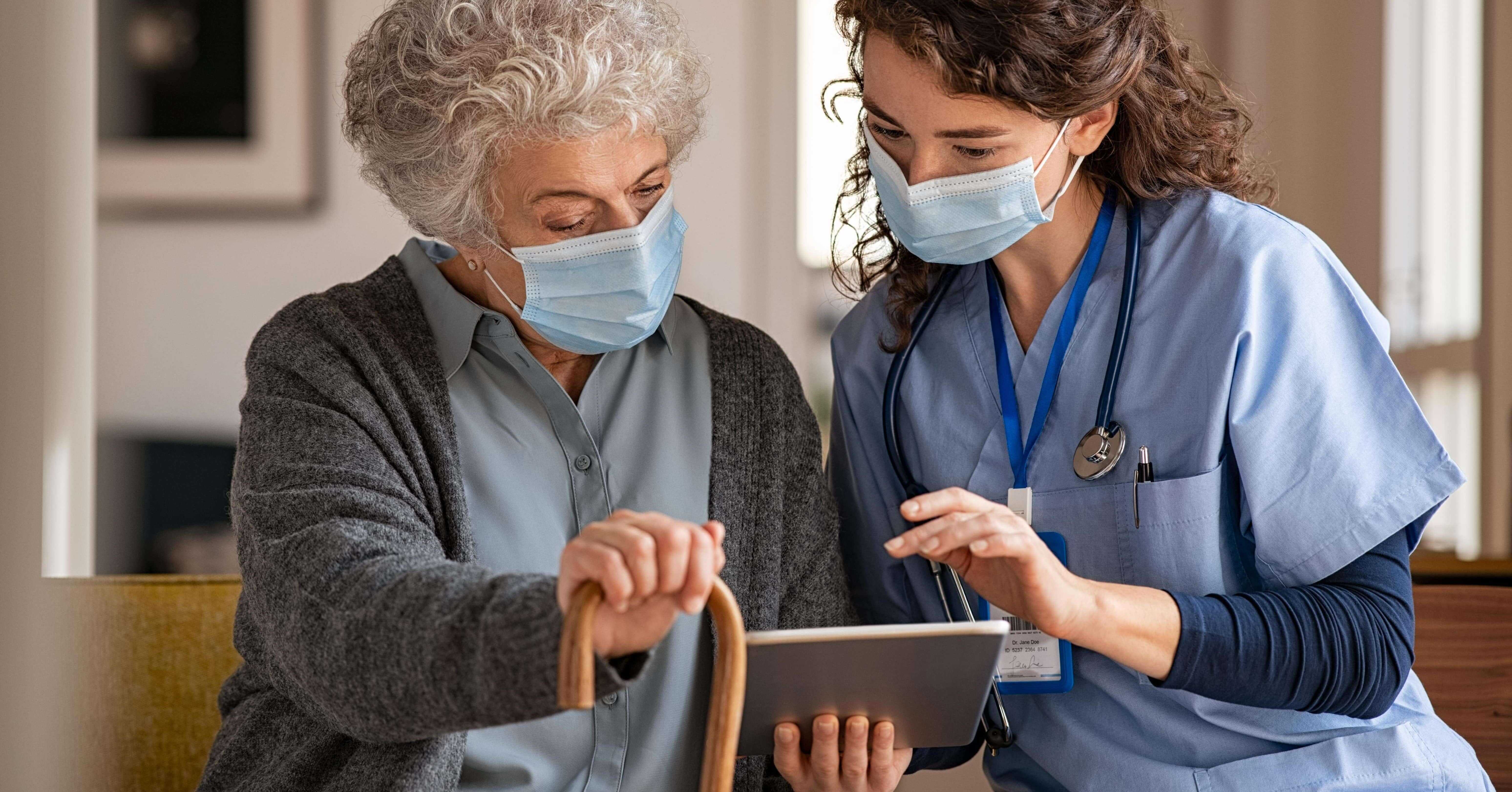 Many sectors are embracing technology to evolve how they deliver care, how they exchange information and how they monitor patients. This technological shift was always going to happen. But with the COVID-19 pandemic forcing the population to social distance and isolate, technology has had to step up and overtake existing infrastructure as a result.

The majority of the population uses technology, such as smartphones and tablets, in their daily life, which has prompted the healthcare sector to use these devices to their full potential. We're taking a look at the types of technology care homes can utilise and what the NHS advises considering before implementing it into your own care home.
What to Consider Before Implementing Technology in Care Homes
The NHS offers the following tips before implementing telehealth, telecare and telemedicine in care homes:
1. Use a Pilot Phase
To implement initiatives such as telecare, telehealth and telemedicine into care homes quickly, it's important to begin with a pilot phase. This enables care homes to discern how the technology will work in real-time and offers practitioners the chance to ensure data security.
2. Use Existing Hardware
Before implementing a full suite of new technology, consider using what is available. This could be tablets and laptops, for example, with apps such as Zoom, Skype or Vyzit.
3. Implement Secure Emails
The Secure Email Standard ensures sensitive and confidential information remains secure and all health and social care providers should meet the standard. To ensure your care home reaches this standard, there are various options to choose from, including NHSmail, Office 365 or Google G Suite.
You must show that your service is compliant with secure email standards by following the secure email accreditation process.
4. Implement Integrated Care
Implementing technology will be most successful if both health and social care work together. This includes Clinical Commissioning Groups, Local Authorities such as care providers and also health providers. Together, these groups can drive integrated care.
5. Develop Technological Initiatives With Care Providers
As well as developing technological initiatives with care providers, it's also important to ensure patients, community matrons and GPs are completely engaged with the programme. When the relevant people are bought in, it makes implementing technology in care homes much easier.
Technology to Consider for Your Care Home
Most technology offers a quick and easy way to streamline tasks. For example, handwriting care notes at the end of a shift is a lengthy task that occurs every day. Instead, using a mobile device with the appropriate software enables staff to update notes in real-time.
Health practitioners can update their colleagues efficiently and speed up data entry. These systems can also provide access for relatives, so family members can stay informed by logging in from their location and reading information about their loved one's day.
Another useful technology you can implement in a resident's room is an acoustic listening device. With the patient's approval, this can be switched on at night to allow staff to check on residents without entering rooms and disturbing people's sleep. If staff hear an unusual sound, they can check on the patient. For more security, camera systems can be installed - if appropriate and with the patient's consent.
Telehealth solutions distribute health-related services and information through electronic devices. It enables patients to receive care, educational services and advice from clinicians from a distance. It has a variety of benefits, including cost savings, convenience and the ability to deliver care to those with limited mobility.
But technology can go beyond the quality of care too. The right technology in care homes can combat loneliness and isolation. With features such as video calling on an accessible and secure platform, care home residents can communicate on a more interactive level with friends and family. This helps them stay connected with their family, friends and the outside world.
Not only acting as a direct link to family and friends, but the same technology solution can be used to host more services such as TV, dementia support, radio, health education, newspapers, magazines and so much more. There is a wealth of features like this tailored for the older generation that provide familiarity, comfort and distraction.
Choosing the right solution for your practice is vital. The aim is to improve patient care, engagement, and experience - and the right technology solution can help you achieve that. Today, patients have growing digital expectations, so it's critical to keep up.
If you want to improve the patient experience in your care home, try out a demo for yourself to see all the benefits first-hand.
See How WiFi Can Work for You
A WiFi SPARK demo offers insight into how managed WiFi will help you reach your goals and improve your offering in your care home. We offer an enhanced WiFi offering tailored to each user's need, and our demonstrations work the same way.
Depending on your requirements, a member of the team will demonstrate different product offerings and how they'll help. You'll get guidance on the different tools and features so you can experience how this industry-leading platform improves your team's daily lives and your patients'.
To book your demo, click the button below.