The Benefits of Providing Free WiFi to Hospital Staff
5 Minute Read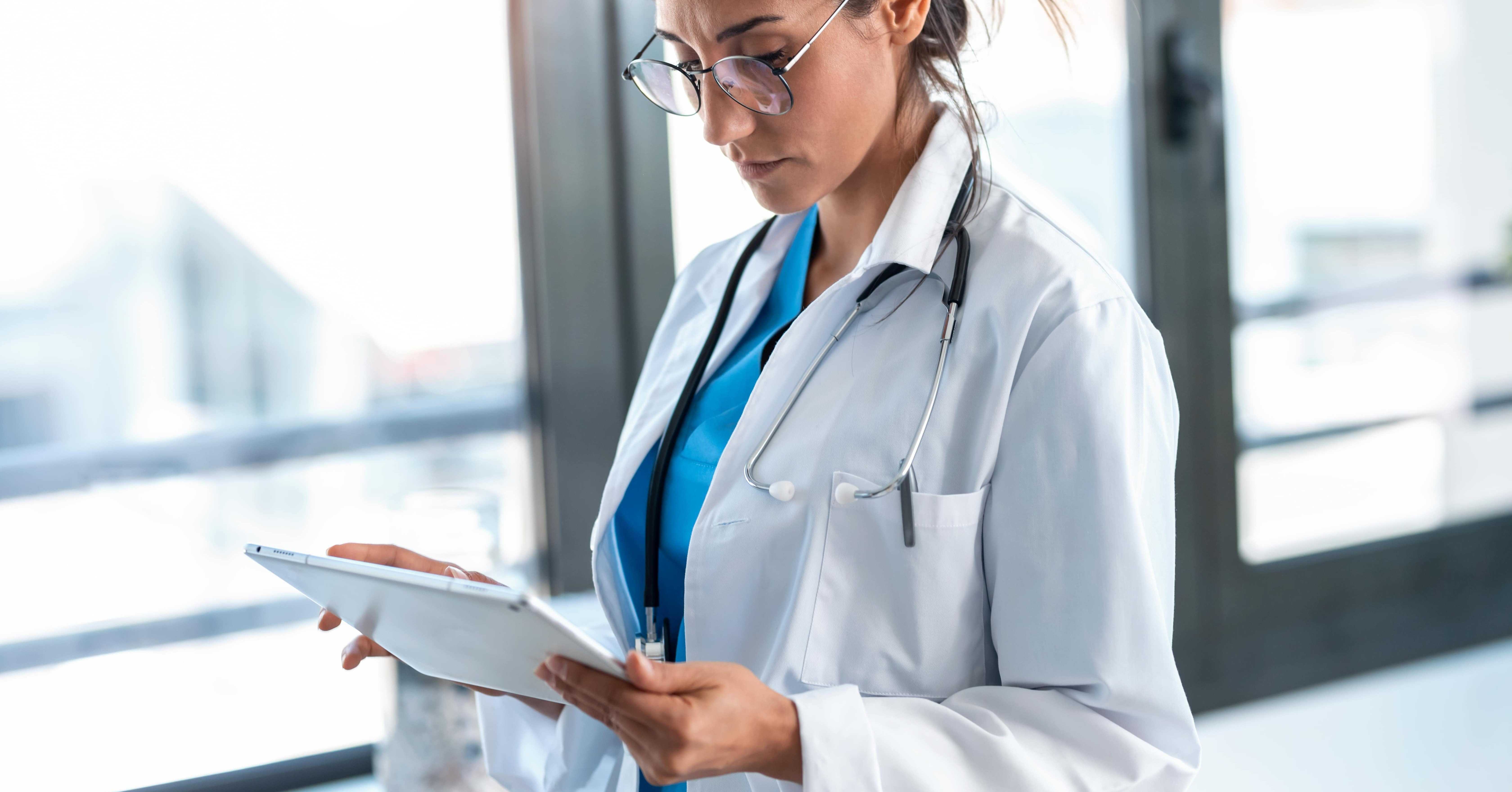 Free WiFi. Two words we all expect in the public domain. During the pandemic, however, it's become even more critical for healthcare Trusts. The demand is now pressuring organisations across every sector to evaluate their WiFi offering.

Hospital WiFi can be used for more than just an internet connection. It can reduce security risks, improve staff productivity and lead to happier patients.
1.Dedicated Staff WiFi
Separating public and private WiFi networks means Trusts can control who has access to what information. Doing this ensures that sensitive information remains safe, secure and away from those who shouldn't have access to it. This doesn't mean prioritising one network over the other, but rather developing two capable networks; one for staff that allows them to access NHS information and recreational content, and one for patients that provides guest WiFi with necessary site information, facilitates autonomous care and keeps them entertained through a patient entertainment platform (PEP).
When developing a solution that fits your Trust, it's important to remember that patient entertainment isn't just for patients. Keeping staff entertained during their downtime allows Trusts to get more use out of PEPs at no extra cost. Staff can enjoy TV, radio or the latest magazine during their breaks and return to the ward feeling rested and recuperated. This entertainment is available over the staff WiFi and is easy to access via a weblink.
We'll consider the breadth of patient entertainment platforms a little later, but developing your Trust's WiFi solution is completely bespoke, so staff WiFi can remain a priority whilst keeping sensitive information private and entertainment public.
Whatever solution you're considering, make sure to download the NHS WiFi policies and
guidance for a complete list of the technical specifications your WiFi needs
to meet.
You should also make sure the service you set up complies with your local ICT policies on:
Acceptable use policies

'Bring your own device' policies

Network capacity planning and monitoring
Market-leading WiFi providers can meet these requirements and even exceed them. They can also offer a solution that validates only NHS domain emails, protecting the network from anyone connecting who shouldn't be.
Take WiFi SPARK, with a staff login feature that only allows @nhs.uk emails, a private, staff specific User Experience and a managed entertainment platform with customisable content filtering, you are able to meet your WiFi upgrade goals in one foul swoop. And what's more? Staff can enjoy a single sign-on service that allows them to move throughout the Trust estate across a 365 day period and be remembered by the service, meaning they'll only have to sign in once.
With providers in the marketplace developing solutions to fit known NHS WiFi pain points, it has never been easier to revitalize your staff WiFi offering. Continue reading to see how this can translate into more productive teams.
2. More Productive Teams
The NHS staff continue to do an incredible job. They work long shifts and often have to deal with stressful and difficult situations. The cuts to the NHS budget are well documented and staff's time and resources must be as efficient as possible.
Providing free dedicated staff WiFi means staff can access servers, patient data, resources, emails and printer networks wirelessly. As a result, it allows staff to work more productively and provide better care. Clinician and NHS staff benefits include:
Access information on the move, including increased access to summary care records
Direct patients to online support
Connect their mobile devices to deliver care on the move
Offer online consultations


Staff can work more remotely around offices without being tied to a fixed desktop PC, avoid network delays and share notes with other staff more easily - in real time - something unimaginable only a few years ago.
"COVID-19 has made stark the importance of technology in helping people and those who care for them stay connected." - NHSX chief executive Matthew Gould
A robust and reliable WiFi connection is more than just convenient. Ultimately, it's the all powerful qualities of a WiFi connection (and the infinite wealth of information that follows) that helps to boost efficiency.
Using WiFi solutions that support PEPs with clinical integration mean staff can access digital care plans and records more easily. Utilising the wealth of digital services on offer across the NHS through a bespoke, responsive and innovative WiFi solution gives Trusts the opportunity to expand the breadth of care and significantly boost patient, visitor and staff satisfaction.
3. Springboard to PEP
We spoke earlier about how patient engagement platforms, or PEPs, can work on top of a reliable WiFi connection to offer more to staff and visitors alike. On WiFi SPARK's patient engagement platform, patients have access to a variety of features that make their stay more pleasant and the jobs of staff easier, such as digital meal ordering and communication aids.
On a PEP, patients can quickly update their meal order through using the hospital WiFi. This is not only beneficial in terms of money saved, but also means staff don't need to walk around the hospital and collect orders on paper. Staff also won't waste time delivering meals to patients who no longer need it or have to dispose of wasted meals.
Patients can also access maps of the hospital to help guide them around wards. This benefits staff as patients won't need to ask for their assistance as much, allowing staff to deal with other important matters.
As the NHS has a diverse range of patients, some may not speak clear English. This poses a problem, as translators are needed to communicate with non-English speaking patients, costing time and money.
As part of the SPARKⓇ Media package, there is a picture board feature. This picture board features images such as food and cutlery, as well as images representing the words 'yes' and 'no'. All a patient needs to do is click on the images to communicate with staff. This benefits both patients and staff, as it streamlines the process and ensures both can be heard and understood.
PEPs aren't just for patients, the wealth of digital services on offer can be used by staff during their time on site allowing them to elevate the care they deliver. Providing free WiFi to staff opens doors to streamlining the management of all levels of care and there are solution providers that ensure adopting these digital innovations is as easy as can be.
It's clear WiFi is an important addition to any hospital, but it needs to be good quality WiFi that's secure, stable and reliable. With a focus on digital technology still prevalent in the NHS' plan, there's no better time to implement a solution for the future of patient care.
Providing More Than Just WiFi, We're the NHS's Most Respected Provider
WiFi SPARK allows staff, patients and visitors to stay connected and Trusts to learn useful insights. The SPARK® Media platform offers a wide variety of packages to suit your unique requirements - for both staff and patients.
To learn more about our solutions, watch our video and start pioneering towards better patient outcomes.